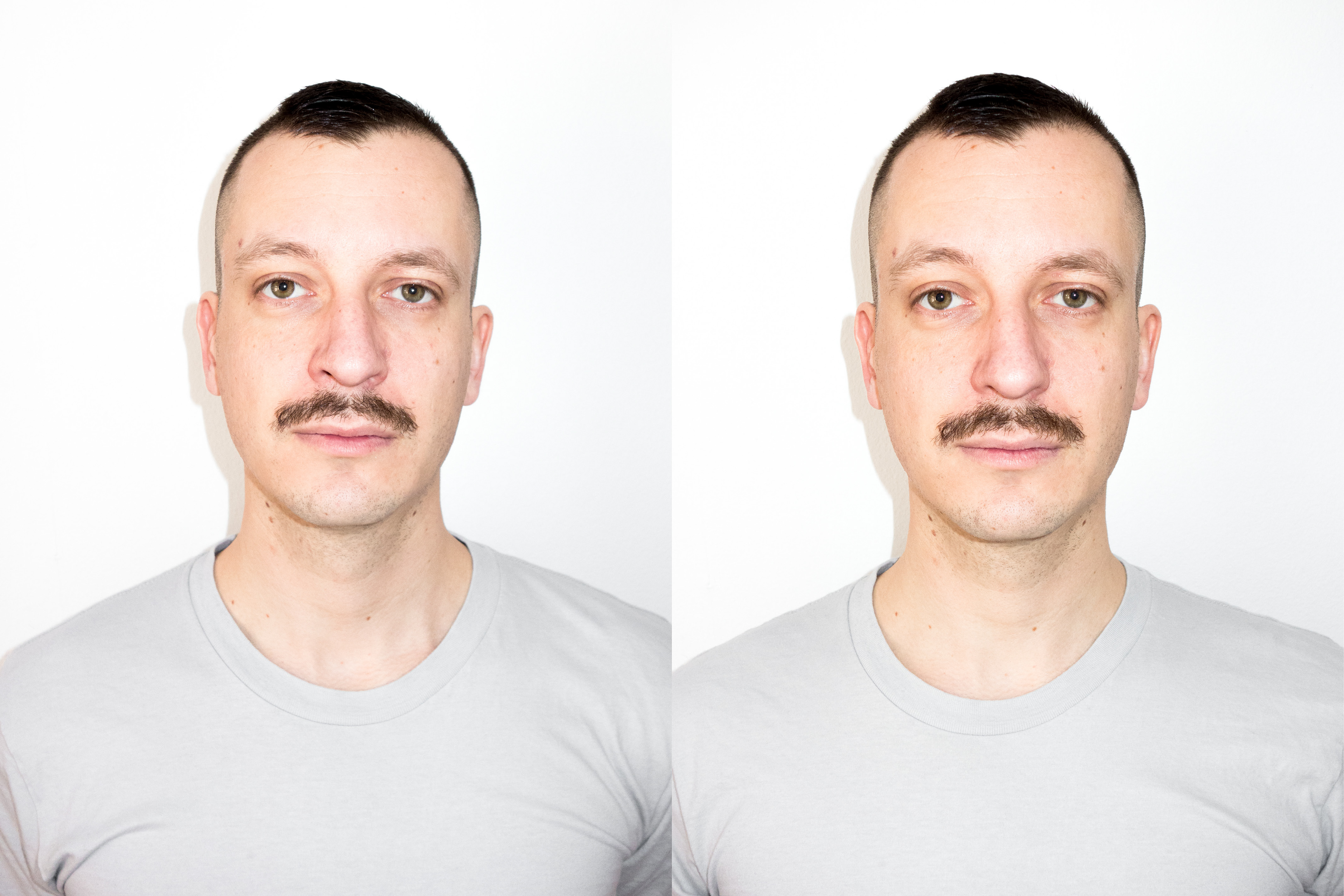 Born in 1980 in Trbovlje, Slovenia
Based in Amsterdam

Born in the same town and year as the band Laibach, I come from an environment of contrasts: relics of the industrial revolution against an ecosexual backdrop of a narrow river valley and lush hills.
Taking an academic detour in my education laid the foundations of my writings, while I gained invaluable experience in organising student events and setting up projects. Photography showed me how to steer my visual language as I gradually embraced the complexity and immersiveness of film.
I work with film, visuals and spoken word. My stories reveal the inner lives of our sexual personae. Combined with soundscapes, my work triggers our mental undercurrents.
As a teacher, I strive to create a space in which my students are invited to reveal their alter egos, while they learn skills for managing their ambitious projects.

Education
KABK – Royal Academy of Art / BA Photography 2008 - 2012, The Hague
Faculty of Arts / Art History 1998 - 2006, Ljubljana
Freie Universität / Art History 2004, Berlin
I. gimnazija v Celju / Grammar school 1994 - 1998, Celje

Teaching and lectures
KABK Academy-wide education / Film and video art course 2019 - present, The Hague
KABK BA Photography / Audiovisual course 2019 - present, The Hague 
KABK BA Fine Arts / Film and photography elective 2020, The Hague
HKU BA Fashion Design / Film and photography 2016 - 2021, Utrecht
Klub Monokel, Legebitra, Društvo DIH /
Photography in the LGBTQ+ scene in Slovenia 2006, Ljubljana, Koper

Commercial work
Iztokk - Freelance filmmaker and editor, photographer and production assistant 2012 - present
Frismedia - Front-end developer and web designer 2007 - 2015, Utrecht
Hipergo - Front-end developer and web designer 2005 - 2007, Ljubljana

Community work
The Bookstore - Host at Homeland 2015 - 2016, Amsterdam
Trojka student magazine - Graphic designer 2002 - 2003, Zagorje ob Savi
Klub Šoht - Head coordinator of student events 2002 - 2003, Hrastnik

Filmography
PTSD (part of Remembering the Nights in Safe Haven) 2021, music video
Remembering the Nights in Safe Haven 2020, short film
Descent 2020, music video
Rapture 2019, music video
Safe Place 2017, short film
Dark Marrow 2015, music video
Reverence 2015, video installation
Oval Window 2014, music video
My Men 2012, video installation
Home Away 2011, short film

Commissions
MigratieLab - Limburgs Museum Venlo 2021, interviews for a video installation and social media
Belle Dommage and Grande Cabaret Lisboa / Adonia 2021, music video for a benefit event
Tatjana Macić - Intergalactic Pollinators, Stedelijk Museum Amsterdam 2019, film registration of a performance
Bas Kosters - HOPE SS19, Stedelijk Museum Amsterdam, M-ODE - WeMakeThe.City Festival
2018, visuals and social media campaign
P L A T E AU R E S I D U E - In Vivo 2016, installation video
Studio IKKAI - Healing the Feeling (collaborative project) 2016, installation video
Eye Filmmuseum - Eye on Set (production photographs from the archives) 2015, installation
Somer Meijer - I Just Want to Know You, Acte de présence The Hague 2014, film registration of a performance 

Shows, screenings and events
Festival Račka, Center for Contemporary Art 2022, group show and performance, Celje
Satyrs and Maenads 2021, screening, Athens
Museumnacht Amsterdam: Silent Night, Sexyland World 2021, group show, Amsterdam
PFF Vienna 2021, screening, Vienna
Fuck Culture, Descriptive, Raum D 2021, group show, Vienna
Festival Tresk #12 2021, screening, Ljubljana
Eye on Art, Eye Filmmuseum 2021, screening, Amsterdam
Online premiere, Melkweg Expo 2020, screening, Amsterdam
PFF Vienna 2020, screening, Vienna
Street gallery during the epidemic, Fotogank & TAM-TAM
2020, group show, Ljubljana
Mint-Switch Festival, Roodkapje and Burgertrut 2020, screening, Rotterdam
Festival Sonica 
2019, music festival, Ljubljana
Gaida Festival 
2018, music festival, Vilnius
Mint-Switch festival, Roodkapje 
2018, screening, Rotterdam
Sandberg Series 2017, The One Minutes 
2017-2018, group show, various locations: 
Sandberg Instituut, Museum Hilversum, Museum de Fundatie, Dortmunder U, Bonnefantenmuseum, Amsterdam Academy of Architecture, Art Museum of Nanjing University
Cure Park. Art of Care
2017, screening, Amsterdam
Eighteen 29 #4 
2017, group show, Amsterdam
Prospects & Concepts – Art Rotterdam 
2017, group show, Rotterdam
The One Minutes / Eco vs. Ego
2016, group show, various locations:

Sandberg Instituut, Museum Hilversum, Museum de Fundatie, Dortmunder U, Bonnefantenmuseum, Amsterdam Academy of Architecture, Art Museum of Nanjing University, Dutch Design Week Eindhoven
Different Worlds – Young Contemporary Photography, Photon 
2015, group show, Ljubljana
The Bookstore Project Space 
2015, solo show, Amsterdam
Trash the house #2 
2015, group show and event, The Hague
Undertow, Showroom MAMA 
2014, group show, Rotterdam
Close, Het Nutshuis and Acte de présence 
2014, group show, The Hague
You Made Me Love You, Derde Wal 
2014, group show, Nijmegen
Pop-up Pride
2013, group show, Amsterdam
Plat(t)form 2013, Fotomuseum Winterthur 
2013, portfolio review, Winterthur
Now or never #2, GEM 
2013, group show, The Hague
Steenbergen prize show, Nederlands Fotomuseum 
2012, group show, Rotterdam
Nu, KABK graduation show 
2012, group show, The Hague
Bandits-Mages Festival 
2011, screening, Bourges

Media and published work 
Tiffany ARTikulacija, Kulturni center Q
2021, interview, Ljubljana
Uncovering Creatives #9, hosted by Jennifer Muntslag, Pakhuis de Zwijger 
2020, interview, Amsterdam
Bird in flight
2018, interview, online
Pornceptual
2018, article, online
Unlocked Book
2018, photo series, Athens, Paris

Grants, prizes and nominations
Honourable Mention – Festival Tresk #12 / PTSD 
2021
Project subsidy – AFK (Amsterdam Fund for the Arts) / Remembering the Nights in Safe Haven 
2020
Stipendium Program for Emerging Artists – Mondriaan fund / Safe Place 
2016
1st prize: Different Worlds – Young Contemporary Photography, Photon / Afterlife 
2015, Ljubljana
Steenbergen prize nomination, Nederlands Fotomuseum / My Men
2020, Rotterdam
Thesis prize nomination, KABK / I want to have a good year again 
2012, The Hague

Collections
Slovenian Film Database / PTSD 2021, Ljubljana 
Eye Filmmuseum / Remembering the Nights in Safe Haven 2020, Amsterdam
Rencontres Internationales / Safe Place 2018, Paris, Berlin
The Netherlands Institute for Sound and Vision / Healing the Feeling 2016, Hilversum
Eye Filmmuseum / My Men 2013, Amsterdam